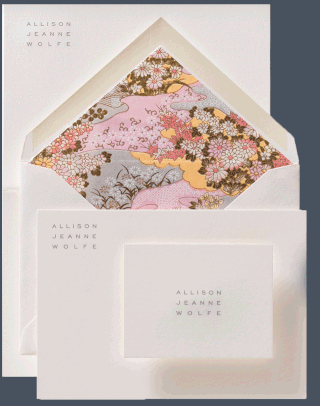 Custom Stationery Creates Special Expression of Yourself | byrd + bleecker in Fort Worth TX
As a custom stationery printer and maker in Fort Worth TX, I work with clients to create a special expression of themselves through design, style, color, font, and messaging...

...all presented on elegant paper that makes a warm connection with your friend that moment she touches it. It's so nice!
And so much more personal than the texts and emails we send these days because it's easier for us.  But if you've designed your own stationery and hand written a personal message to that someone, it stands out and is remembered longer.

I'm Melanie Jones, owner of byrd + bleecker in Fort Worth. I've studied and practiced designing through my love for paper, ink, gift wrap and special things offered in my little shop on West 7th Street in the Cultural District.

I recently worked with a woman who wanted to send notes and letters to friends instead of just emailing them, as she normally did. She told me about herself, how she wanted to present herself, and we perused through some stationery samples.


It didn't take long, but we designed a suite of stationery from Arzberger Stationers, and it was beautiful. She was so excited when it arrived and let me know she was already writing personal notes to friends she hadn't seen in a while.

I think that's what makes personalized stationery so wonderful. It not only looks great, but it also inspires the sender to express thoughts and feelings that otherwise go unsaid.

I'd love to work with you! I work "By Appointment Only" to insure we have uninterrupted time to plan and design your custom stationery.

Call me today so we can get started! Here's my number...

(817) 935-0509

byrd + bleecker
3550 W 7th Street
Fort Worth, TX 76107